One of my absolute best friends in the world is author MJ Fredrick. Like the Romance Bandits, she's a former RWA Golden Heart finalist. And she's another study in perseverance, never giving up on her publishing dream, even in the face of the rejection and self-doubt we all have faced at some point. Her first two novels are out in e-format and will debut in paperback this fall. Today she's talking about something else we writers bump into from time to time -- coming out of the writing closet to co-workers at the day job.
In my everyday life, I'm a schoolteacher. I've never REALLY been in the closet about my writing, but I learned a long ago not to talk about it because, well, success is a lonnnnng time coming (13 years from my first finished book to my first published book). The more people who know, the more people who ask and the more you have to say that no one's bought you yet.
So when I came to my new school four years ago, I didn't advertise the writing thing.
And then I sold. Two books in two months to two publishers. I HAD to tell.
The reaction still surprises me. One of the teachers in my unit, who loves to read romance, has just enjoyed every step of this with me. When I get my cover or get an article written about me, she just lights up and hugs me and tells me how proud she is. My whole grade level has been awesome. The newest teacher keeps reminding me that she urged me to take the e-publishing step, another teacher bought me an M&M fire truck because both my books are about firefighters. ;)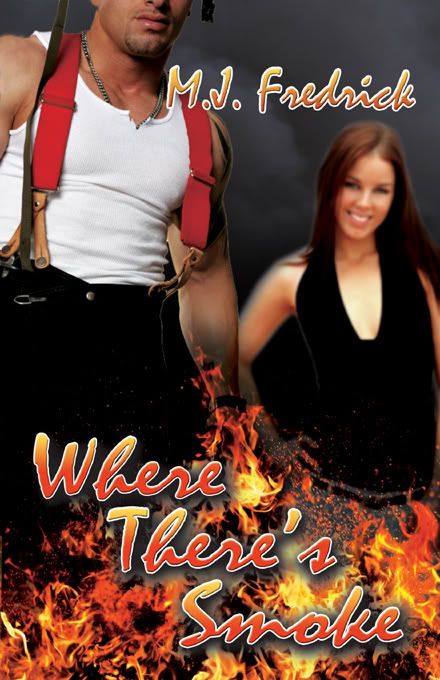 The sped teacher and library aide want shirts with my book cover.
The librarian and reading specialist cheer each success.
The day my first book came out, my principal (my PRINCIPAL) made a banner for the teachers' lounge that said, "Congratulations! We are ALL so proud of you!" She included hearts on both ends with flames in them, AND she bought me a chocolate cake that said "Congratulations" AND she called the district PR guy, who has since become my personal publicist.
The coach asked for more information about how to get the book and took one of my postcards with the Web site on it.
Then, last Friday at about 10:30 a.m., my principal called me on my cell. "One of the news stations is coming to interview you at 2. I just found out, but I wanted to give you heads up."
Okay, if you've ever met me…this is exactly the kind of thing I NEVER thought I'd do. I looked down at myself. It was Friday, so I was wearing my school T-shirt and jeans. I'd been writing in the morning and managed to remember to put on base, and I THINK mascara, but nothing else, not even earrings. I figured I'd go to Walgreen's at lunch to get make-up, but what about the shirt? I looked at all the women who were my size, all were wearing t-shirts, too. So I went to the office, thinking they might have an extra collared shirt.
I hit pay dirt. The counselor let me borrow her hot pink school shirt with a collar but it said "Counselor." I figured I'd find a way to fix that. I like pink. She also had make-up (Hallelujah!) The teacher next door gave me a silk flower from the end of her pen and made a pin to cover up "Counselor," and the sped teacher loaned me her earrings. And the principal came in to the interview with me so I wouldn't be so nervous!
You can see the result here:
The Interview
I'm still astounded at the support and awe I receive at school. Maybe it's because I've only talked writing and publishing with writers all these years that I don't see how special writing a book and getting it published really is.
And yes, I know my school is a special blessing.
Thanks for hanging with us today, MJ.
You can find MJ's newest releases here:
Where There's Smoke

at The Wild Rose Press
Hot Shot

at Samhain Publishing
(releases April 1, so if you visit this blog post on the evening of March 31, you might not see it)
Be sure to visit MJ at her
fun blog, The Bandwagon
, and her Web site.