By Kate
I am beyond thrilled with the release of my first romance,
The Millionaire Meets His Match
! Adam Duke is the millionaire in question, and he's Silhouette Desire's Man of the Month for July. How cool is that?!
After a rough early childhood, Adam was adopted by heiress Sally Duke, along with two other boys. From their early childhood experience, the Duke brothers believe that love doesn't last and leads inevitably to pain. They vow to each other that they will never get married. Adam is determined to keep that pact.
The poor guy doesn't stand a chance when Trish James enters his life!
So now let's party!!!
A Night of Fantasy
I'm hosting our launch party today at the fabulous Fantasy Mountain Resort and Spa, the latest luxury property from Duke Development International. Hop aboard Adam's private jet and enjoy a nice glass of champagne while you recline in plush leather seats.
We've left behind the Sacramento skyline. The beautiful California coast will be visible for several minutes out the left side of the plane before we make our way toward the mountains.
Ah, here we are, at the Fantasy Mountain airstrip. A quick limo ride later, and we arrive at the magnificent, six-story Arts and Crafts style resort.
Smile for the paparazzi! They're here in force, as they always are for events hosted by the Three Most Eligible Bachelors of California. The Duke brothers are looking fine in their tuxedos.
There's dancing in the main lodge, so get your boogie on. Call out your requests. The band knows everyone's favorites, guaranteed. What kind of band? Whatever kind you like – this is Fantasy Mountain, after all. We can all dance to the beat of our own drummer.
When your feet get tired, pop into the spa for a relaxing shoulder massage from Sven or Konrad.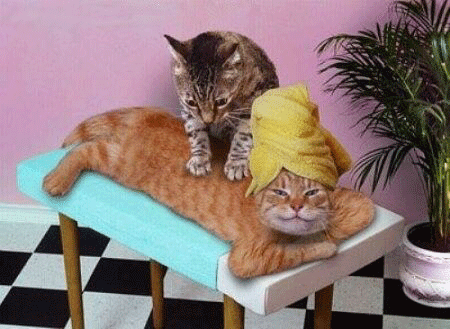 (Or Ingrid, for those of you looking for the feminine touch.)
Don't forget to order your favorite cocktail from our cabana boys! And dinner will be served whenever you want it. We have a table just for you in front of the wall of windows looking out onto the mountain scenery. The staff is here to cater to your every whim.
Thank you again for celebrating with me! This has been the perfect way to introduce The Millionaire Meets His Match to the world.
And please visit my brand new romance website! It's katecarlisle.com/romance, and I'd love to know how you like it! Do you like the colors? Do you like the graphics? Is there anything missing from the site? Let me know!
Once you've got your cocktail in hand, I have some Red Carpet questions for you: What are you wearing? Will you be on tomorrow's Best Dressed List, or the What Was She Thinking page? Who is your date? Who is the celebrity you most want to meet tonight? (Living or dead – We're on Fantasy Mountain, remember!)