by Beth Andrews
As one of Tawny's Critique Partners, I'm lucky to be able to have a front row seat to her creative process. Tawny and I have been through good and bad together - rejections, Golden Heart finals and wins and best of all,
SALES
. *g* I interviewed Tawny to celebrate the release of Tawny's second awesome Harlequin Blaze,
Does She Dare?
(though its release date is Jan 2008,
Does She Dare?
has already been spotted in stores across the country. Well, what are you waiting for? Run out and get your copy today *g*)
Beth: Hey, the end of the year is the perfect time to take a stroll down memory lane. Can you believe it's been over a year since you started brainstorming/writing Does She Dare? Remember the original title?
Tawny: I can't believe a whole year has gone already! Time flies when you're freaking out, huh? I do remember my original title - The Man Plan. I love that title LOL, and kept it in the story. I even have a Man Plan chat going at eHarlequin the week of January 7th, I loved it that much!

Beth: Ahh...but you freak out so well. *g* And the results are worth it! I loved The Man Plan too and am so glad you were able to keep that part in the story. You know, I think the story behind DSD is so cool. In the original, first version of Double Dare (Tawny's excellent Blaze Debut - still available online) there was no Isabel. I'll put on my interview hat and ask how she came into being?
Tawny: Ooooh, Isabel's inception. My editor told me to add her LOL. Audra had two very, well, naughty friends. Brenda (my editor) thought Audra was so bad herself, she needed a balance, more of a conscience (picture Jiminy Cricket, only a gal in hot shoes). In Double Dare, Isabel was both Audra's conscience and her project as she learned a few bad girl ways and found herself in trouble (Isabel, that is. Audra was always trouble). Isabel was the perfect contrast for Audra, because she helped the readers see how dedicated Audra was to success, despite her bad-girl persona. And Audra gave Isabel that edge that let her be the kind of gal who'd write a fantasy list and call it a Man Plan :-)
Beth: I'm so glad Brenda suggested that Audra needed a Jiminy Cricket. *g* Audra and Isabel make a great team, and like you say, they balance each other out (hey, sort of like us, huh? I'm the sweet one for those who don't know us *ggg*) And you gave Isabel the PERFECT hero for her in Does She Dare?! Dante is such a bad boy -- but oh so good for Isabel ;-)

Tawny:HAHAHHAHAH... oh, you were serious about you being the sweet one? Hmmm...Yeah, I really think Audra and Isabel were a great balance - just like their heroes were. Jesse saw that sweet side of Audra, and Dante definitely brings out Isabel's naughtiness. I looooove Dante. I think he's my favorite hero so far, he's just so real and earthy and, well, hot. Very very hot.
Beth: LOL - yes, Dante is hot and really, it's so cool that Isabel gets her Fantasy Guy, the one guy she crushed on so much that she's never forgotten him. But it's the way she goes about - making The Man Plan, following her self-imposed rules - that sets her apart. *g* She's a bit...um...rigid when it comes to goal setting. She even color coordinates (just like someone else I know *g*).
Tawny: Hey now, color coding is a GOOD thing! It makes finding stuff easier, and is more aesthetically pleasing to the eye. But... yeah, maybe Isabel is a LITTLE rigid. She's a control freak, and so goal oriented that when things start spinning out of her control, she gets just a little upset.
Beth: We've been critique partners for a long time and I've been lucky enough to read everything you've written (including synopses, proposals, articles and yes, even To-Do lists *ggg*) and aside from being CPs, we're also good buddies :-) So I like to think I know you pretty well (Yes, I know the REAL Tawny Weber. If anyone wants the good info, I can be bought. Cheap. *g*) For instance, before you wrote Does She Dare?, I knew you weren't a morning person, but I didn't get a first hand experience of just how much you LOATHE mornings until I, along with our dear CP Sheila Raye, called you one morning to brainstorm some ideas for Isabel's character. Talk about an experience that opened my eyes *g*
Tawny: So, you all read it here first... Beth's cheap. I'm just naughty, but I'm really expensive! Heeheehee... kidding. I'm pretty sure it was the hero you all had figured out for me, wasn't it? Something brilliant and insightful that immediately fixed all the character issues I was having. At least that's what you tried to tell me later, when I was actually awake enough to understand our conversation. As for that early morning grumpiness.... c'mon, I'm a nightowl. What did you expect other than grunts, growls and swear words? Thank you, though, for the brilliant insights that fixed my character issues ;-)
Beth: There were many grunts. Actually, it was sort of sexy - in a cave-man, incomprehensive way ;-) I'm just glad we were able to help out with Dante (I think you're right about it being him and not Isabel)
Tawny: You paid me back later, though when you called to tell me you'd sold and I didn't wake up to go find a phone. Now I'm paranoid and keep one right next to the bed, so I can immediately celebrate your next deal!
Beth: You know I'm calling you bright and early, right? And this time I'm going to keep calling until you answer the phone. *vbg*
Tawny: That's what I love about you, your refusal to let me sleep.... I mean, your refusal to take no for an answer!
Beth: Aww...that's sweet -- I think. Okay, enough of this love-fest. *g* Let's get back to Does She Dare? and those very...inventive love scenes. *g* Without giving too much away, let me just tell our readers that they're in for one wild ride with this story ;-)

Tawny: Oooooh yeah. Dante is an outdoor kind of guy, so you can imagine that a lot of the love scenes take place under the stars. The cover of Does She Dare depicts my favorite love scene in the story though... just look at it and let your imagination go!!!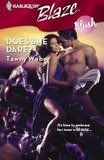 Beth: Hmm...actually this brings to mind the time I critiqued a certain scene in Does She Dare? that takes place late in the book when Dante forgets to pull his pants up. Remember? When I pointed it out you wrote back that, no, he wasn't going to pull them up. He was just going to get on his Harley and ride away with his willie flapping in the breeze :-)

Tawny: ROFL... oh yeah. That would have been a problem, wouldn't it? I'm so glad I have you to, um, catch things like that!
Beth: Hey, that's what I'm here for! Someone's gotta keep any eye out for those flapping parts
And with that little Behind The Scenes tid-bit, I just want to thank Tawny for taking the time to answer my questions and to encourage everyone who likes Sassy, Sexy reads with a whole lot of Attitude to pick up or order a copy of
Does She Dare?
!! You won't be disappointed. :-)
Oh, and I want to let everyone know Tawny and I are doing a two-week, online workshop for From The Heart Romance Writers! It's titled Dreams to Reality and its all about Goals, resolutions and vows of success.
Check it out!
Since Tawny's first two books are all about dares, we want to know: Are you daring? What's your wildest dare? One lucky commenter will win a copy of both Double Dare and Does She Dare?!