by Tawny Weber

Many people may or may not realize that the awesome Beth Andrews is my cove
ted Critique Partner (as in I will share her, but get first dibs... just don't tell Vrai Anna) and I'm overjoyed to see her fabulous debut, NOT WITHOUT HER FAMILY on store shelves now! For fun and pleasure (my fun in tormenting her, your pleasure in reading the results) I talked Beth into answering a few questions for today's blog... and here we go:
(btw: I tried to find a different picture of Beth and I to share, but most are blackmail material and probably should be kept off the net... for now)

So Beth, you wrote one hot hero in your debut, NOT WITHOUT HER FAMILY. He's the ultimate sexy good boy. Wanna share a little about what your inspiration was for Jack Martin?
First, thanks for thinking Jack's sexy - I find him quite sexy myself! Actually, I started with Kelsey, my heroine. She's a reformed troublemaker--or at least, that's what she'd like people to believe *g* So I knew I wanted a hero who would give her a run for her money, who would really force her to grow and evolve into the person she's meant to be, the person she's been hiding behind her sarcastic wit and tough girl persona. And I came up with Jack *g* He's a by-the-book police chief to her rebellious bad girl. I wanted him to be controlled and just a real steady arrow. Someone who knows what they want, knows right from wrong but wasn't so rigid that he couldn't bend once in a while without breaking. The more I wrote, the more Jack evolved and that's where his sexiness sort of...leaked through into the story :-)
Hmmm... Jack leaked? Really? Okay, this image is killing me!

LOL - That's what you get for letting me answer questions after 9 pm -- Leaking heroes ;-)
And Kelsey - OMG I love her! She's such a total smart-alek, yet so vulnerable. How did you manage to balance those distinctive traits so well?
It was tough. I've written several snarky heroines and to be honest, it took me a few tries before I was able to soften Kelsey enough to make her empathetic without having her lose her edge. I realized if Kelsey said something harsh or smart-aleky (I think I just made up a word *g*) then I needed to show WHY she was acting that way. Out of fear? Insecurity? Anger? Defensiveness? Also, I had to make sure she didn't come across as mean or nasty (another tough trick) but mostly, I had to make sure she wasn't ALWAYS the wise-guy. She has moments, especially around Jack's daughter, where she lets her guard down and her vulnerabilities show.
This is so hard to get across, too. I remember how many times we... I mean, you reworked Kelsey to bring those vulnerabilities to the surface. And as the writer (and CP, ahem), I know you KNEW the reasons behind her smart-alekiness (to take off with your word *g*) but bringing those reasons out for readers to see. What was it that made you aware that Kelsey needed a little softening? I know it wasn't CP input since I adored her rough edges *g*.

Hey, don't try to get out of it - you were with me every step of the way with this story *g* And I adored Kelsey's rough edges too which was why it was so hard to see that she needed softening a bit. Luckily, I had an editor explain to me that she came across as a bit...harsh and if I took her rough edges too far, she'd become unlikable. My current editor helped me see that sometimes taking out a single sentence can make all the difference. So even though I thought Kelsey was hilarious and witty, taking out some of her zingers and one-liners really made all the difference in how she comes across. I've definitely learned to take the adage Less Is More to heart with my writing :-)
Great adage and what a solid writing tip for us all! Now, I have to ask: Jack's daughter Emma
almost steals the story. You have a way of writing kids that keeps them real, but still makes them adorable (not saying real and adorable aren't synonymous with kids, but... well, hmmm.) Did you worry about her taking over?
LOL - Emma was so much fun to write! And yes, sometimes real kids aren't so adorable (as we know since we have real kids *g*) I didn't worry about her taking over until it was pointed out to me that she needed to be...toned down a bit. But really, to me, kids do have a way of stealing the spotlight in real life - especially one like Emma. They're just very hard to ignore :-)
So true! And she did have a hottie for a daddy. How hard was it to create a flipped stereotype - single father hero with a fear of kids heroine?
Creating the flipped stereotype was very easy for me because I knew Kelsey so well that I knew the idea of being around kids would freak her out. (Again, what better way to torture her than to pair her with a single father? I'm so mean to my characters *g*) With her background, she knew nothing about kids, nothing about being a mother so adding Emma into the mix also added another conflict to keeping Jack and Kelsey apart.
So lets talk about this mean thing. I keep hearing rumor that you're intimidating and mean (and not just to your characters). Do you really think it through like that - here is my character and here are her deepest fears... now lets find the absolute worst person for her --in her mind-- and bring them together?
Hey, who says I'm mean? Besides my kids, that is *ggg* And yes, you nailed it perfectly - that's exactly how I think it through. For example, in Not Without Her Family, Kelsey's brother Dillon and Jack's sister Allie are friends. Now, I think some people would like to see Dillon and Allie get together but the fact is, there's no reason for them to have a story. They have no conflict, no chemistry except that they're friends, he's a sexy bad boy and she's a gorgeous good girl. But that's it. So, for Dillon's story, I paired him up with the worst woman in town for him. Honestly, I torture the poor guy (and believe me, he was already tortured enough before I started his story *g*) but the end result, his happily ever after, is so worth it. At least, I hope it's worth it!
Ahem... methinks it's you who keeps claiming to be mean, but I'm usually laughing so I might be mistaken.
Hey, it's not my fault you're not the least bit intimidated by me. I'd think my angry face would
scare you right out of your socks :-)
LOL – you keep saying that and I just keep laughing.
Maybe you should get a whip or something?

So, okay, back to it... I think, IMHO, your characters are the strength of your writing. They are so multi-dimensional and real that they jump off the pages. And yet you can distill them -their essence, lets say - down to a simple archetype description. How DO you do that?
Oh, thank you! That's wonderful to hear because I consider myself a very character driven writer. I start with an idea of who my character is and once that character has really gelled in my mind, I go through and figure out their archetype. I then use what I've learned to amp up their internal conflict and to give myself an idea as to how they might handle certain situations.
Can you expand on archetypes a little? Tell us more about the concept?

Uh...no? *g*
Kidding. Boy, you're really making me work, huh? Well, I'm far from an archetype expert but from what I've learned, an archetype is a person's personality, their characteristics. It's a way to get to the heart of a character. I use The Complete Writer's Guide to Heroes and Heroines by Tami Cowden, Caro LaFever and Sue Viders and I'm currently reading a book you recommended, 45 Master Characters by Victoria Lynn Schmidt. Both books give the archetype, the archetype's virtues and flaws as well as examples of each archetype. Once I've decided which archetype my character is (although sometimes they're a combination) I use the virtues and flaws to help decide on what their internal conflict will be and how they'll react to any given situation. I use it to get a good feel for my characters but honestly, once I start writing and get to know the characters as people, I let their individual personality take over instead of their archetype.
Clear as mud, eh? ;-)
LOL – Isn't it fun trying to explain your writing process? Thank you for humoring me and answering all these questions... even if you did make a few threats along the way.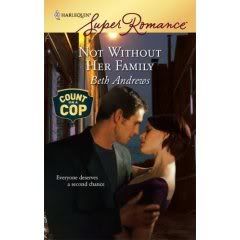 So, because Beth rocks, we're gonna celebrate her debut by me giving away her book *g*

In Not Without Her Family, there's a scene where Kelsey uses her favorite stand-by cookie recipe to help Jack and Emma out of a jam. What's your favorite go-to recipe, the one that never fails to impress at family picnics or neighborhood potlucks? Whether it's your mother's chocolate bundt cake, your own secret recipe crab dip or a tray of cookies from your local grocery store's bakery, we want to know! Share and Beth will choose one name to win a copy of NOT WITHOUT HER FAMILY!!