by Tawny Weber
Whoohooo - I'm super excited to share some chit-chat with a great friend of mine - Karin Tabke. Karin is one of those fab authors who writes all over the board. Historical, Parano
rmals Erotica -this gal does it all. Karin's novella, THE HARD STUF, debuted in January 2006. Her first full length book, GOOD GIRL GONE BAD was featured in the November 2006 issue of Cosmopolitan magazine. Since her debut, she's gone on to sell 11 books so far to two publishers, with her sixth and seventh out this month. Please join me in welcoming Karin -
[Karin] Thank you Romance Banditas for having me as your guest today!

[Tawny] Thank YOU for coming to play with us! Karin, your writing is intense, emotional and so real. Jaded is, in my unbiased opinion, your best cop book yet. Can you share a little about it with us?
[Karin] In my biased opinion I would have to agree with you. I hit my writing stride with this book. This book is about two pretty tortured souls who find each other and run as far and as fast as they can, but don't get very far. It's more character driven than the previous hot cop books, and I really dig that. It's also more plot developed than the previous books, ok, well, maybe not more then SKIN, but it has some killer twists and turns.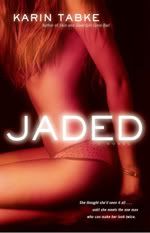 [Tawny] Your heroes are hot, sexy and alpha in the true sense of the word. Do you find it a challenge to write such strong men?
[Karin] Nope, I write what I know. I live with a bunch of alphas, kind of hard not write about them when they are in your face 24/7.
[Tawny] How about finding women strong enough to keep them in line?
[Karin] Weeeeel, to survive alphas one must be able to stand toe to toe with them, which I do, so again, I write what I know. I'm a pretty alpha female, hence the interesting tug of war between my characters. So, basically, I just whisper in my heroine's ear how to handle those bad boys. Most of the time they listen. But sometimes they don't. I love smirking and saying, "I told you so," after the fact.
[Tawny] I know for a fact that your cop's are true to life because you have a solid research venue... namely a retired cop by the name of Hubby. Writers are always mining our own lives for story fodder. Have any of your husband's war stories found their way into your books?
[Karin] Yep. The opening scene in GOOD GIRL GONE BAD was ripped from the pages of one of Hubby's few IA's. Then there is the whole cop talk and action thing. Camaraderie between cops is tight, and raw. Nobody really gets them except the same animal with the same spots. But they are human like the rest of us, and sometimes that adrenaline is hard to turn down. They do some crazy stuff. And don't think for a minute that cops don't cross a line here and there, they do, especially when a female is involved. Those guys love as hard as they work.
[Tawny] How does his being a retired cop influence different aspects of your story?
[Karin] He is a font of information. I'll run a procedure by him, or ask for the correct lingo, and he confirms facts. The penal code is burned in his brain. But what he does best is help me brainstorm plots for their cop authenticity and integrity. I do take some artistic license, this is after all fiction, but I try to stick as close to real as possible. In fact it makes the story better. More conflict when you have to stick to the rules. Coz then it's real fun when my characters break them. And just an fyi, some of things I have witnessed? If I wrote about it, no one would believe me. I'm leaving that to hubby and the book he's writing.

[Tawny] You have another June release that is wildly different than your hot cops. Can you share a little about The Blood Sword Legacy, and book one of the series, Master of Surrender?
[Karin] Can I say I LOVE this series? Here's a hint:
The Blood Sword Legacy Bound by a brotherhood forged in the hell of a Saracen prison, eight Blood Swords -- mercenary knights for William the Conqueror -- set out to claim their legacies the only way they can: by right of arms, by right of victory, by right of conquest.
The first book of the series is MASTER OF SURRENDER, book two, MASTER OF TORMENT comes out in December of this year. What I love most about writing this series is the rawness of the era. There was so much turbulence and the rules changed for everyone. It's a fabulous backdrop for conflict and passion
.
[Tawny] Hubba hubba... that is one HOT cover!! Karin, often when a writer reinvents herself, its because she's hit a wall or she's burned out writing one particular sub-genre. Your hot cops are doing great, so that's not the issue in your case - what made you shift focus to medieval historicals and where does this leave those sexy cops?
[Karin] I fell in love with romance reading the historicals of yore. When I came back to them a few years ago I was disappointed by how watered down many had become. They seemed to have lost the raw edge of the time. So, I took it upon myself to write the kind of story I love. Hence the series. As to where does it leave my sexy cops? Well, JADED released yesterday, book three in my hot cops series. Book four, HAVE YOURSELF A NAUGHTY LITTLE SANTA, comes out in mass market in November. I have every intention of writing more bad boys with a badge.

[Tawny] Do you find your writing process is any different in working on the cops vs the historcals?
[Karin] Yes. My cops are a part of me. I lived the life by way of hubby for many years. They are contemporary. I can write those guys all day long, it comes easy. It's what I know. The historicals? Not so easy. It takes me much longer to write because I can only go by what I have researched and the stories told by others. It's hard to put yourself somewhere you've never been and have it just pop out. I'm sure once I get a few more historicals under my belt it will come easier, but for now, the storytelling takes longer. That said, I am dying to cross the pond to England and haunt the sites of my stories. I think that will be an enormous help.

[Tawny] And speaking of writing processes (my favorite hated subject) care to share yours?
[Karin] Um, yes, I have this friend who I IM at ungodly hours of the morning and we push each other to produce pages. Seriously. My best writing time is from midnight to 4 a.m. The house is quiet and I surround myself with my characters. I write almost every day. Sometimes 20 pages, sometimes 2 pages, but with the exception of weekends (and sometime not) I write.

[Tawny] LOL - I love our ungodly middle of the night writing sessions! Like you, I get so much done after dark. Karin -thanks so much for hanging out with us today.
[Karin] T, thank you for taking the time to ask the questions, and to all of the Bandits, thank you for having me as your guest today! I'd love to give away a copy of one of my backlist to a lucky commenter today! So if you just want to say hey or have a question, fire away.
Thanks, Karin for visiting! If you all want to check out more of her gorgeous covers or her books, stop by Karin's website at http://www.karintabke.com/
So, everyone - Karin has a fabulous handle on those sexy alpha males. Care to share YOUR favorite alpha hero? Could be a hero from fiction, television or movies. You name him, I want to hear how hot he is....