by KJ Howe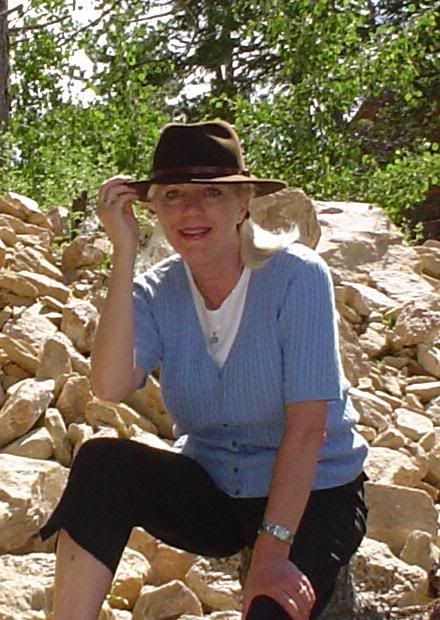 If you haven't heard about Margie Lawson, you're in for a real treat today. Margie's classes and lecture packets will change the way you read and write fiction. Her explanation of non-verbal communication, rhetorical devices, and writing craft will revolutionize your writing! The Bandits are lucky to have her on board to talk about Self-Defeating behaviors--a topic that touches most writers. Let's get Margie to help us defeat our demons today!
Championing Your Day
by Margie Lawson -- Psychologist, Writer, Presenter
Hello Everyone!
A big THANK YOU to KJ HOWE for inviting me to guest blog today. I got to meet KJ in person when she attended a full day workshop I presented for Toronto RWA. I enjoyed chatting with KJ so much, I wish she would move to Denver. I know a few of the ROMANCE BANDITS. What an incredible group of driven-to-succeed talent.
Before I dive into the blog, everyone who posts a comment needs to know that they have an opportunity to win a LECTURE PACKET with over 200 pages of lectures. Stay tuned.
Championing Your Day
Does it seem like your days get away from you? Like you fall into a time warp? Seconds and minutes and hours seem to slip away without your full knowledge?
By the end of some days you feel as if you've accomplished little and you're sad. You're frustrated. You're depressed.
Keep in mind, I'm a psychologist and a writer. I'll share one tiny slice from my Defeat Self-Defeating Behaviors course that I teach on-line every January. It's one of my TIME-MASTERY systems.
No cringing. Your time is your life. If you're not in control of the minutes of your day, you're not in control of your life.
I developed a list system with THREE LISTS: WINNER, SUPER STAR, and MAYBE.
WINNER LIST
– This is for the items you KNOW you can complete in an identified time period from 20 minutes to two hours. Specify your time. List the items that are ABSOLUTELY DOABLE during that time. Not items that you wish you could do. Items that you WILL do. No question that you can complete them. Keep it short.
SEE? You can be a WINNER!
Think: DOABLE.
Think: SUCCESS.
SUPER STAR LIST
– This list is for what you MAY HAVE TIME TO DO. Or not.
You do not get to consider touching an item on this list until you have COMPLETED YOUR FULL WINNER LIST. No list hopping.
AGAIN: YOU DO NOT GET TO DO ONE ITEM ON YOUR SUPER STAR LIST UNTIL YOU COMPLETE EVERY ITEM ON YOUR WINNER LIST. You may get to one or two items on this list. No pressure to complete this list.
YOUR MAYBE LIST
– This is where you capture your random ideas for whatever. You may do it someday or maybe not. You may put items on your MAYBE list that move up to another list later. Items on your Super Star List may also make the jump to your Winner List when priorities shift.
Remember: You can only look ahead up to two hours at a time. You can then take a break and reward yourself for being so incredibly productive and creative. Next, you identify another chunk of time, 20 minutes to two hours, and make your next WINNER and SUPER STAR Lists.
You may also have a Master List. That's the one that could anchor the Titanic.
We won't discuss your Master List. I'll allow you to make you Master List, but don't spend time staring at it. Pull the items from it for your WINNER List, then cover up your Master.
Will making these lists help you CHAMPION YOUR DAY? They could. You learn to set yourself up to meet goals. You boost your self-esteem. You accomplish what's on your Winner List.
If you tap into your STEELY SELF-DISCIPLINE, you can take charge of sections of your day and power your way to success.
Here's a quote I wrote that helps me stay on track.
Every hour, every day, follow your map to success.
My doable lists are my maps. Try making your doable lists and you'll follow your maps to success too.
Take charge of your maps . . .
Take charge of meeting your writing goals . . .
Take charge of enjoying the minutes in the hours of your life . . .
Thank you for dropping by. I'd love to hear from you.
Do your big To Do lists overwhelm you? What maps have you created to help you champion your day?
If you've taken my Defeat Self-defeating Behaviors course, are you still working with your Change Coach? Let me know about your success.
DO YOU FEEL LIKE A WINNER? Post a comment and you may win a Lecture Packet (a $20 value) from one of my courses:

1 – Empowering Characters' Emotions
2 – Deep Editing: The EDITS System, Rhetorical Devices, and More
3 – Defeat Self-Defeating Behaviors

Descriptions of these courses are on my web site. Click on Lecture Packets.

www.MargieLawson.com

I'll draw a name at 10 PM Mountain Time. I'll post the winner at that time. Thank you for dropping by Romance Bandits!
Best………………Margie
~~~~~~~~~~~~~~~~~~~~~~~~~~~~~~~~~~~~~~~~~~~~~~~~~~~~~~~
Margie Lawson merges her two worlds, psychology and writing, by analyzing writing craft as well as the psyche of the writer. She presents 1) Empowering Characters' Emotions, 2) Deep Editing: The EDITS System, Rhetorical Devices, and More, and 3) Defeat Self-Defeating Behaviors in one and two day master classes. She also teaches these topics in month-long on-line courses and offers Lecture Packets through PayPal from her web site.
Margie, thanks so much for stopping by the Bandits today. We're thrilled to have you as a guest!