Posted By Kate
It's April Fool's Day in the Lair! But we're not fooling around! We've got an absolutely fabulous line-up for you this month and you won't want to miss out on one single moment of fun, prizes and general raucous behavior! Here are some of the highlights:
On April 2, Lair favourite, the fabulous Kate Walker, returns for another fun-filled visit to celebrate the release of her latest book,
The Proud Wife,
and to share some really great news about one of her 2010 releases.
On April 3, Diana Orgain visits us for the first time to chat about the latest book in her Maternal Instincts mystery series,
Formula for Murder
. As a busy mother of three, she's got some great tips for aspiring writers who can't find the time to write.
April 4 finds Kay Thomas back in the Lair, along with her newest Bulletproof book,
Bulletproof Hearts
, from Harlequin Intrigue.
On April 6th, Jules Bennett will return to the lair to talk about her April Harlequin Desire release,
Her Innocence, His Conquest
.
And on April 7, Cheryl Ann Smith talks to Donna about her journey to publication and shares an excerpt from her debut historical,
School for Brides
. RT Bookreviews says Smith "makes a dazzling entrance to the romance community with a charming, sexy, innovative tale that sparks the imagination."
Don't miss the fun on April 8! Joan hosts the wonderful Kristan Higgins AND the hero and heroine of her new Harlequin release My One and Only as they play 20 questions.
On April 12, Jeanne interviews Maureen Batita from the popular blog, Romance Writers Revenge. She'll discuss her ebook, The Kraken's Mirror. Yo ho, yo ho!
And on April 19, Dianna Love will join us in the lair to talk about keeping dreams alive, and why she's sponsoring a national art contest based on the book,
Blood Trinity
.
On April 21, Patricia Rice returns to chat with Nancy about her first direct-to-electronic release,
Evil Genius
.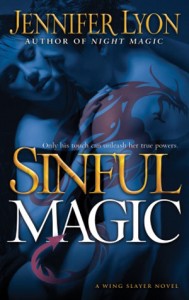 On April 25, our favorite witch, Jennifer Lyon, visits to talk about her two new books in the electrifying Wing Slayer Hunter series, Night Magic and Sinful Magic.
Kathleen O'Reilly returns to the Lair on April 26 to chat with Bandita Nancy about her new Blaze,
Just Surrender
.
There will be a night of scandal and mayhem in the lair when the paparazzi crash the ball celebrating the launch of
Midnight's Wild Passion
, Anna Campbell's latest historical romance from Avon. Mark your calendars for hijinks and giveaways on Wednesday, 27th April! You can read the blurb and an excerpt here:
http://www.annacampbell.info/wildpassion.html
.
And Anna's holding a Midnight Madness contest on her website to celebrate the release of her latest historical romance MIDNIGHT'S WILD PASSION on Tuesday, 26th April. All you have to do is read the excerpt from MWP on her Books page
http://www.annacampbell.info/wildpassion.html
and tell her what color Ranelaw's hair is. Email your answer to anna@annacampbell.info The contest closes 30th April 2011. For more details, please visit
http://www.annacampbell.info/contest.html
.
One more April happening: The RT Book Lovers Convention comes to Los Angeles April 6-10.
Are you going? What are you wearing? Tell us everything! And even if you're not going, we can pretend. What fabulous fantasy costume would you wear to the Fairy Ball?